Year 5 C
Welcome to our Primary 5C class!
Our teacher is Miss Cubitt and our classroom assistant is Mrs Campbell. We are both looking forward to the exciting year ahead.
Throughout the year we will be focusing on fun and interesting topics. During Term 1A our first topic was 'Home and Away' where we learned about our home village Macosquin and compared it to its twin town, La Roche-Sur-Yon in France. We created a Green Screen information video using our iPads at the end of our topic.
During Term 1B, our next topic was 'Alive and Kicking'. This topic gave us good opportunities to look at the different ways that they can look after our bodies, including exercise and healthy food choices.
This term, our topic is 'What On Earth?' where we will be looking at Volcanoes and other natural disasters. We find this topic so interesting and look forward to every lesson!
In our class we will be enjoying a creative approach to learning through the fun and challenging activities planned in order to make our days at school exciting.
Latest Photographs
Class Photograph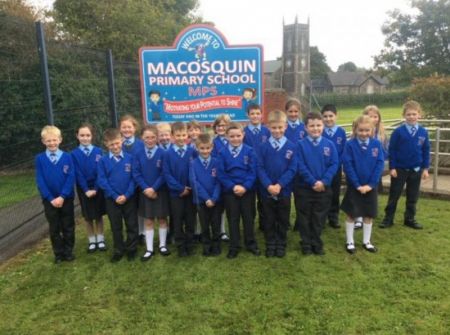 &nsbp;

Principal: Louanne McElwee BEd PQHNI | E: Lmcelwee632@c2kni.net
Macosquin Primary School 34 Dunderg Road, Macosquin, Coleraine, BT51 4ND | T: (028) 7034 4317