School Orchestra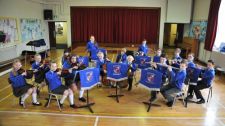 The school is very proud of its orchestra comprising a range of stringed, woodwind and percussion instruments. Orchestra provides pupils with a wonderful opportunity to make music together and to work effectively as a team.
Music in the Curriculum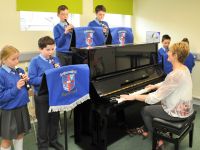 Every class receives a timetabled music lesson once a week from our specialist Music teachers. This includes solo recorder and recorder ensemble tuition.
These lessons follow NI Curriculum requirements.
Instrumental Tuition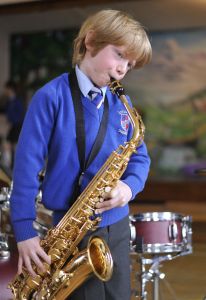 Our children are given the opportunity to develop their musical skills and learn the following instruments:
Strings (Violin/ Cello)
Woodwind (Flute and Clarinet)
Brass (Trumpet/ Saxophone)
Percussion
Piano
Voice (Singing and Musical Theatre)
All pupils receive a weekly back-up lesson from our own teaching staff as well as individual lessons with specialist tutors.
Many children achieve recognised grades from 1-5, perform at Coleraine Musical Festival and are part of our School Orchestra.
School Performances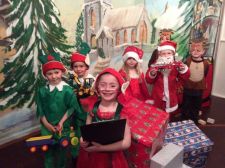 Every year the children in both Key Stages are given the opportunity to be part of a performance for our school community. Other opportunities are provided in Class Assemblies and Celebration Days at the end of the school year.
Junior School Choir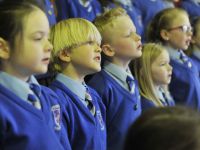 The enjoyment of singing begins in our school from an early age with the opportunities to perform as part of the Infant and Junior Choirs. The Junior Choir enjoy singing together and performing at community events and local festival competitions.
Junior Choir:
P1-P3 choir -The Houston Trophy for winning Class 7 (Infant Choirs)
The Coleraine Rotary Club Challenge Cup for the best performance in Junior School Choir Classes 1-10 and 71-74
P1-P4 choir - The Challenge Shield for winning Class 71 ( Children's Choir Open)
Senior School Choir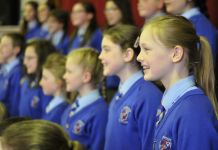 Our senior School Choir is a passionate team who love to sing at school events, festivals and in the community. They rehearse weekly with conductor Miss Reid. A versatile, well trained group, they are renowned for their harmonious singing and enthusiasm. This year, they qualified for the first heat of BBC Choir of the Year.
Festival Results for 2016
Senior Choir:
Ballymena: 1st in Heat, 2nd overall.
Portstewart: 1st in class and overall cup.
Coleraine: Primary Mixed Choir - The Challenge Cup for winning Class 10b; Hymn Singing Class - The Challenge Cup for winning Class 78; Accompanied Choir - 2nd; The Dalzell Challenge Cup for the highest mark in classes 76-79; The D.H. Anderson Cup for the highest mark in classes 1-14b.
SEESAW
The members of the Senior Choir enjoy keeping up to date with new pieces and future events on our Choir Seesaw page. It promotes a sense of teamwork and builds self-esteem.

Principal: Louanne McElwee BEd PQHNI | E: Lmcelwee632@c2kni.net
Macosquin Primary School 34 Dunderg Road, Macosquin, Coleraine, BT51 4ND | T: (028) 7034 4317